Our People
Jimmy's would not exist without our dedicated, professional and passionate people
Our Trustees
Jimmy's is overseen by a diverse board of Trustees, who each provide additional expertise to the organisation.
Meet Teresa: our cook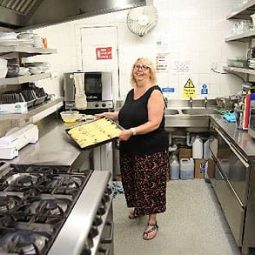 I've been the cook at Jimmy's for five years. Some of the residents even call me Mum!
It's a lovely relationship I've got with the residents. From the first minute I walked in the door, I absolutely loved it. I don't just cook. We have a laugh. We play games.
For meals, everything is made fresh. The residents like their wholesome, home cooking. Sausage and mash, your curry, fish and chips, cottage pies, that sort of thing. Some of them are at their lowest point in life, where even suicide is contemplated when they arrive. To see them build themselves up again, with all our help, and everybody's help, it's lovely to see.